I had the incredibly rewarding opportunity to work with two mediums very near and dear to me, type and poetry. 
This group exhibition began with thirty untitled and unauthored poems by Molly-Margaret Johnson & Kareem Rahma, shared with local and national typographers, illustrators and designers who were challenged to conceive a personal rendition of the poem of their choice, adding yet a third layer of complexity to the written prose.
I chose a short poem that evoked in me the lonely and isolating feeling of a highway at night time, and the distant flicker of a motel sign. To achieve my vision, I used roofing felt as a surface, which provided me with a rough texture resembling a road at night. Additionally, I composed a type design stencil and used spray paint to create the illusion of a neon sign. I used a translucent paper on top to share the prose as it was provided.
I had the chance to present my piece along with Abraham Lule, Anne Ulku, Briana Layne, Booka B, Christopher Alday, Dana Christopherson, Destiny Davidson, Evan Weselmann, Fiona Avocado, Gina McMillen, Jared Marie, Jesús Sanchez, Jordan Hadler, Josh Lexvold, Lindsey Wright, Maximilian Mauracher, Melanie G.S. Walby, Melissa Sisk, Miles Taylor, Milton Un, Molly McDougall, Nicholas Straight, Paige Guggemos, Sara Paul Kahn, Shivani Parasnis, and Thy Doan. 
The opening night was March 5th, 2020.
With my artwork, Spray Paint on Roofing Felt, for the Poem No. 12.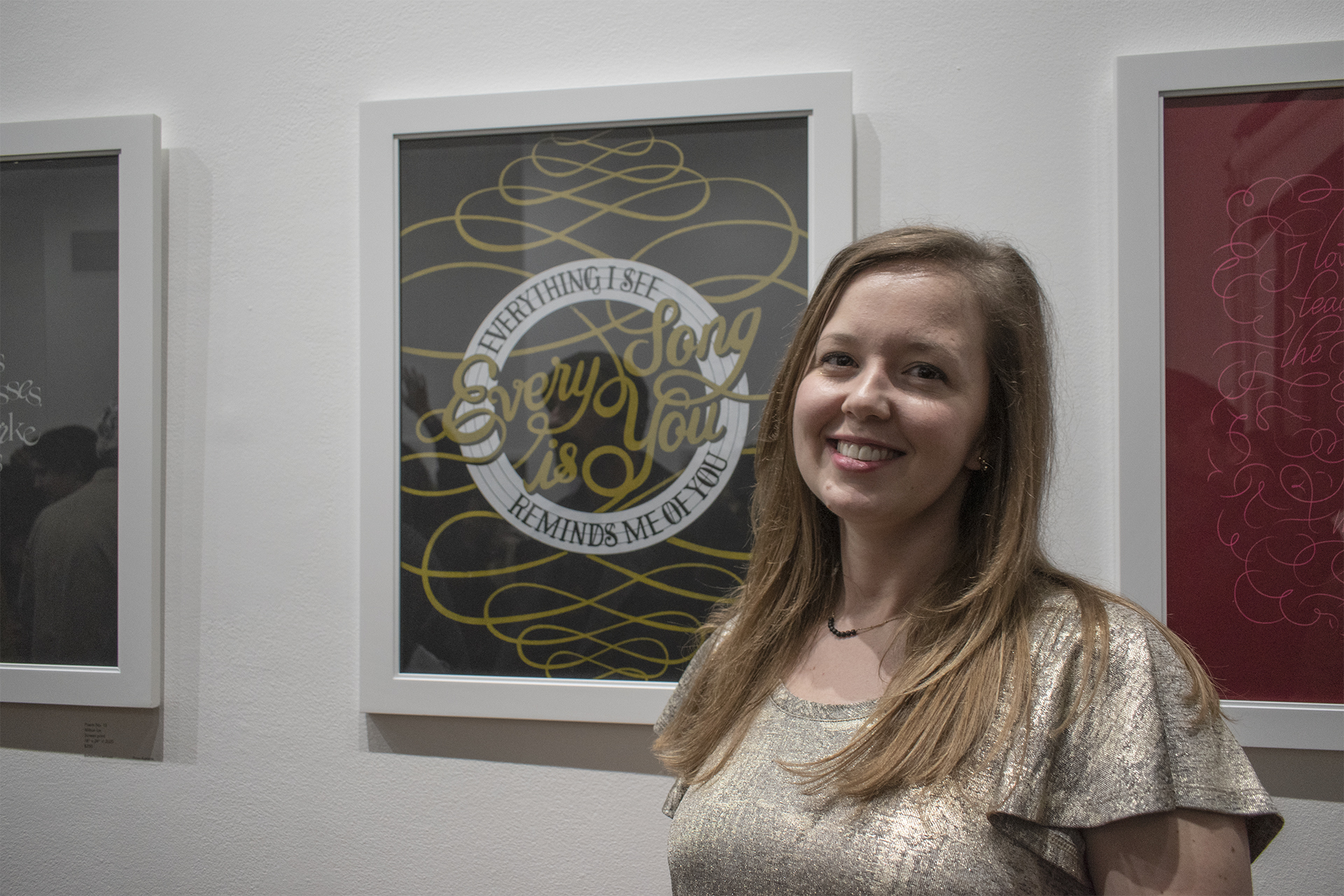 Melissa Sisk with her artwork (Poem No. 14).
Nicholas Straight with his artwork (Poem No. 19).
Dan Souligny with his artwork (Poem No. 21).
Christopher Alday with his artwork (Poem No. 28).